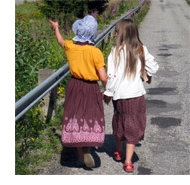 Uppsala, Sweden, August 5, 2008
Summer greetings
from Strategies!
In today's daily news flow there is steady evidence of a shift in how we view learning, work, personal growth and life quality. Strategies will follow the development from the "learn & grow" point of view – personal, at work, as a leader and teacher and in society. The two first issues this fall show how concepts like "public health" and "school" take on new meaning in the knowledge society.
Here is some more Strategies news for this fall:
The 2009 Strategies Seminar with Gordon Neufeld on June 4 in Stockholm
Now is the time to enroll to this exciting seminar featuring internationally renowned psychologist and author Dr. Gordon Neufeld from Canada. Dr. Neufeld gives a whole new perspective on learning, and especially young peoples learning. The Seminar is in English. Read more and enroll here.
New possibilities with Strategies Online
We continue to offer all subscribers a tryout trial period with Strategies Online containing more than 300 articles, pictorials, reviews and tips online. We offer the possibility to smoothly update your subscription whenever needed. Check out the possibilities here.
We introduce a new subscription possibility: Strategies Online for 1-25 users, at the same price as Strategies Digital for 1-50 users. This gives all that Strategies Digital gives including full Online functionality, for up to 25 users.
Strategies Online will be continuously refined. Soon we will introduce a function which remembers the most recent articles you have read online, making it easier for you to findwhat you have read.
Your suggestions are welcome
Your suggestions on the Strategies content are always welcome regardless of the format in which your read Strategies. Please drop me a message on our contact page.
Creative regards
Jonas Himmelstrand, editor
PS. If you are not already subscriber – start subscribing today to – the Strategies to Learn & Grow newsletter.
News archive:
August 2006 – Summer greetings from Strategies
August 2005 – Strategies to Learn & Grow now available in English!
---
The purpose of Strategies is to inspire learning, growth and success
in individuals, teams, organisations and society.
---