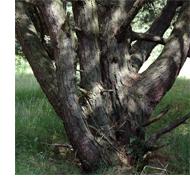 Uppsala, Sweden in August 2006
Summer greetings from Strategies!
Dear reader of Strategies!
Here is the latest news for the coming publishing year in the world of Strategies:
I have finished writing my book on personal growth. The book expands the idea of "to learn & grow" not only to the individual, work, school and leadership level but also in the family and society level. Publishing date for the Swedish edition is not set yet. I also hope for a future translation to English in some form.

Kajsa has a new position as the CEO of Sala Silvermine, an old mine which today is a tourist attraction. Unfortunately this means that Kajsa cannot write in Strategies. We thank her for her inspiring and personally coloured articles and wish her success.

John's second book on humanistic leadership is coming out this fall. It is in Swedish, but John will write an article with its basic ideas in Strategies.

We change the theme of the front page photograph to: Growing to one's full possibility. The new theme will use trees as a metaphor for realising one's full potential. As usual the photo series takes turns with the illustrated aphorisms every other issue.

A minor improvement on the review column is that the ordering information, with links to an Internet bookshop, will be listed on our web site at: www.stratletter.com/books.html. There is a hot link on the Strategies newsletter which means that you are only two mouse clicks away from finding the reviewed book at an Internet bookshop.

Need a place to store Strategies? Some subscribers print their Strategies for easy access and reading. We can offer you a nice file (in Swedish) to store printed issues of Strategies in. Just send us an e-mail and we will send you one.
I look forward to keep developing Strategies during the coming publishing year. Your feedback on Strategies is always welcome!
Yours sincerely,
Jonas Himmelstrand, editor
PS. If you are not already subscriber – Start subscribing today to – Strategies to Learn & Grow
News archives:
---
The purpose of Strategies is to inspire growth, learning and success
in individuals, teams and the whole organisation.
---
-