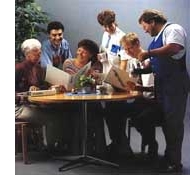 Uppsala, Sweden in August 2005
Strategies to Learn & Grow
now available in English!
Strategies to Learn & Grow is a biweekly digitally published newsletter. The basic subscription fee includes the right to spread the pdf-file of our newsletter to up to 50 computers within your organisation. It is possible to purchase a company wide or worldwide license to increase the distribution of Strategies to Learn & Grow.
Indeed this is one of our major intentions – to inform and inspire both you and your colleagues concerning topics such as organisational development, teamwork, training methods, leadership and personal growth. Strategies to Learn & Grow was founded in 1985 and has been published in Swedish every other Monday, 22 times a year. We are proud to publish in English starting in August 2002.
From our start in 1985 we granted "copying rights" to our subscribers, encouraging the use of the newsletter as a vehicle to inform and inspire as many people in their organisations as possible. We believe that organisational development can no longer be managed only from the top. The development and growth of a company, hospital, school or city agency is the direct result of how many people in the organisation are involved, feel enthusiasm, motivation and responsibility. Strategies to Learn & Grow directly encourages this type of thinking and responsibility.
We welcome you, enthusiastically, to become a subscriber. Our 20 years of publishing experience tells us that Strategies to Learn & Grow will help you to inform and inspire both yourself and the members of your organisation.
With best regards
Jones Himmelstrand, editor
---
The purpose of Strategies is to inspire growth, learning and success
in individuals, teams and the whole organisation.
---