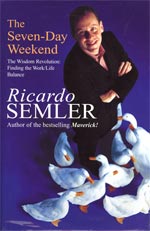 No. 535, December 19, 2005
The review
A Great Book
read by Jonas Himmelstrand
The Seven-Day Weekend
---
Semco Corporation in Brazil is probably the most original self managing company in the world. The Seven-Day Weekend is written by its founder Ricardo Semler and gives a real insight into the company.
Semco has thoroughly implemented pretty much every humanistic idea about the ideal work place which Europeans still only dream of: No control, true corporate democracy, complete transparency in all records, high level of freedom in doing your job, subordinates evaluate their managers every six months, high tolerance for mistakes and an active encouragement of deviants and dissidents. Semco is based on the idea that the employees are adults, can take responsibility, can collaborate and are honest. At Semco this model does not require either rules, policies or a personnel department.
The company focuses on machinery, real estate advisory services, environmental consulting and information technology. In 2002 Semco had 3000 employees.
In order to keep developing the way things are done at Semco is constantly questioned. Any idea which does not survive three why-questions is scraped.
It works! The company is profitable, is growing, has long term loyal customer relationships and a very low turnover in personnel. After working at Semco it is hard to accept an "ordinary" job. Semco has several times been awarded as the best Brazilian company to work for.
The book The Seven-Day Weekend does not only paint the picture of a highly original and successful company. It also challenges the basic assumptions in the corporate world about doing business and presents a new paradigm live in action. Highly recommended!
---
The Seven-Day Weekend, by Ricardo Semler.
Century 2003. ISBN 0-7126-7790-9. 276 pages.
---
© 2005 Strategies to Learn & Grow Newsletter • Printable version