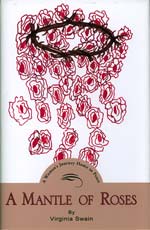 No. 582, February 11, 2008
The review
A Great Book
read by Jonas Himmelstrand
A Mantle of Roses
---
In knowledge society new demands are made on people's inner lives. We need to go within to find, not only our strengths, but also the compassion to work and live together on our single planet. Virginia Swain has written about her powerful inner journey of personal transformation in her book A Mantle of Roses.
She tells the story of the busy woman who was struck by a tragic event which forced her to go deeper within to find healing and her true purpose in the world. She tells her story with great candour.
A key finding in Virginia Swain's process was discovering what she calls her inner voice. Through her inner voice she found a spiritual connection which kept her on track in times of difficult decisions.
The author also found that she had to look deeply at her personal issues and heal them in order to better perceive the issues in the world around her.
Through inner listening she eventually found a highly meaningful vocation working with mediation and reconciliation, with a vision of world peace, at the United Nations. She also found a relationship showing her again how the personal and the global go hand in hand.
As more and more people are inspired to trust their inner listening and set out on a personal voyage of self-discovery and finding one's most meaningful vocation and style of life, books which inspire and confirm have a great value. A Mantle of Roses shows that everything in life has a meaning, and can show the way to a more meaningful life. This book is a great inspiration for healing and finding meaning in anyone's life.
---
A Mantle of Roses, by Virginia Swain.
Xlibris Corporation 2004. ISBN 1413408397. 119 pages.
---
© 2008 Strategies to Learn & Grow Newsletter • Printable version